Alice McBrearty, mai shekara 23 ta amsa cewa lalle ta yi soyayya da dalibin, wanda take koyarwa a wata makaranta a yankin gabashin Landan.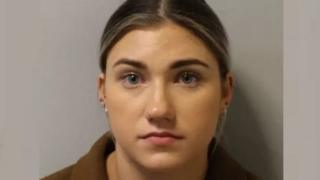 An gabatar wa da kotun Snaresbrook Crown Court karar cewa malama McBrearty ta sumbaci matashin a aji, sannan ta yi jima'i da shi a gidan iyayenta da ke Wanstead Park, a gabashin Landan.
Ta amsa tuhumar da aka yi mata kan laifuka bakwai na yin alakar namiji da mata da yaron da aka danka mata amana (dalibinta).
Masu gabatar da kara sun ce soyayyar ta fara ne lokacin da malamar ta aika wa da yaron bukatar abokantaka da shi ta Facebook.
Lauya Lisa Matthews ta ce matashin wanda ba za a bayyana sunansa ba, ya ji dadin wannan bukata daga malamar tasa, dga nan ya kamu da sonta.
An gaya wa kotun cewa malamar da dalibin sun rika haduwa a wurare da dama ciki har da otal wanda McBrearty take kamawa, inda suke soyayya.
Soyayyar tasu ta kawo karshe ne bayan da mahaifin yaron ya kai kara wurin 'yan sanda.
McBrearty ta rike kanta tana ta kuka lokacin da mai sharia'a Sheelagh Canavan ta yanke mata hukunci.
Mai shari'ar ta bayyana ta a matsayin ''matashiya mai basira da hazaka, wadda ta san ya kamata, amma kuma ta aikata wannan abu na matukar cin amana''.
Ta kara da cewa: ''Na yarda cewa da amincewarsa to amma wana yaro ne dan makaranta mai shekara 15 zai ki wannan tayi?
Mai shari'ar ta ce: ''Ba shakka na yarda kuna son junanku, kuma bambancin shekarunku ba wani abu ba ne. Bambancin wani abu ne.
Ya kamata a ce kin kare shi, ki taimaka masa ya yi abin da ya dace. Amma sai kika taimaka masa ya yi abin da bai dace ba.''
To Allah Ya kyauta.
Source: bbchausa news